Regular price
Rs. 2,000.00
Regular price
Rs. 2,300.00
Sale price
Rs. 2,000.00
Unit price
per
Sale
Sold out
Songara Bhringa is an Ayurvedic Proprietary Medicine. Songara Bhringa Hair Oil boosts blood circulation in the scalp, allowing more nutrients to reach your hair follicles. This also stimulates the anagen phase (hair growth phase) to make it longer, which allows for better and faster hair growth.

We have included customer feedback videos at the base of this page. Have a look and see if anyone from your local vicinity has shared their experience with our services.
It is helpful for both male and female baldness, alopecia areata, hair fall, and premature graying of hair*, etc.
Reasons for hair fall:
There are several factors that can negatively affect the anagen phase of a person's hair and reduce its length over time. These include environmental stressors, a lack of key nutrients for hair growth, dandruff, hereditary hypersensitivity of the hair follicles, hormonal imbalances, as well as certain cosmetic products.
DHT, as a type of androgen, has been known to cause continual degeneration of the hair follicles. This results in new hairs to enter the anagen phase while an average of 50-150 strands are lost per day. With continued hair loss and lack of new growth, baldness or alopecia can start to become evident. Existing hair may become dormant or almost non-existent.
Baldness and hair loss problem:
Songara Bhringa is a potent Ayurvedic Oil and Herbal Shampoo with a host of active medicinal ingredients. It helps nourish existing hair while stimulating blood circulation to revitalize dead and dormant follicles, making it appear fuller, healthier and thicker. Thus, the anagen of that follicle starts again, and new hair growth begins to appear.
A 20-minute massage ensures that the nourishing oil and its active ingredients get absorbed into the deeper layers of the skin. It works by entering through capillaries, reaching the hair follicles, epidermis and endodermis. This shampoo helps to eliminate dust & pollutant particles and at the same time softens the scalp so that it can absorb hair oils better.
 Songara Bhringa supplement provides vital nutrients to hair follicles to prolong the hair growth cycle, thereby promoting the growth of existing hair.*
How does Songara Bhringa work?
Songara Bhringa Oil revitalizes the hair from the roots, due to its four step nourishing formula. In as little as a month you'll start to see noticeable results with regular use*.
Step 1: The essential oils contain nutrient-rich elements that penetrate deep into the hair follicle to nourish it.
Step 2: Utilizing specialized shampoo is an effective method to combat dandruff and other scalp issues. It helps to eliminate dust, oil, dirt, sweat and other pollutants and makes the scalp softer in order for natural oils to penetrate deeper.
Step 3: Strengthens and promotes growth of existing hair*
Step 4: Our product helps to promote hair growth which may have been slowed down or stopped.
Step 5: Regular use of this product can stimulate blood supply to the scalp and suppress DHT production. This helps strengthen hair follicles, giving you a healthier, more vibrant head of hair.
What is the correct way to use?
To get the best out of Songara Bhringa Ayurvedic Herbal Shampoo, be sure to apply it for 2-3 minutes when taking a bath and massage your scalp with gentle touches. Afterward, make sure you rinse off all of the shampoo and dry your hair completely.
To prevent hair fall and damaging the strands, light massage with Songara Bhringa Ayurvedic Hair Oil is essential. Perform this process twice a day - morning or evening -for 15-20 minutes to ensure healthy & strong hair.
Ladies should aim to apply oil to their hair once daily and wash it 2-3 times in a week, with the frequency of washes being left at their own discretion.
Note:
It's important to note that for those struggling with hair fall, shampoo should only be applied while taking a bath, and then washed with clean water. In the morning and evening, apply oil to the roots of your hair lightly as you would a small child. Hair loss can be persistent, and massaging with oil can help prevent it. Getting a trim or shaving off your hair can also encourage new growth. Regular massage is key for healthy & strong hair, so don't be afraid to take the extra time to treat your locks right!
 By taking photos of your hair from the back camera of your phone and sending us images of your hair on the first day, you are helping us track the progress in terms of changes over a month. We appreciate you taking these steps to help us accurately assess the condition of your hair.
Testimonials:
We are proud of our customers' patronage, which has been the foundation of our confidence for years. Our customers keep sharing their testimonials and reviews of various products, and we are pleased to present a selection of these in our testimonial playlist. Feel free to browse through all of the testimonial videos.
*Results may vary from person to person. This Product is not intended to cure, diagnose, prevent, treat or mitigate any disease
View full details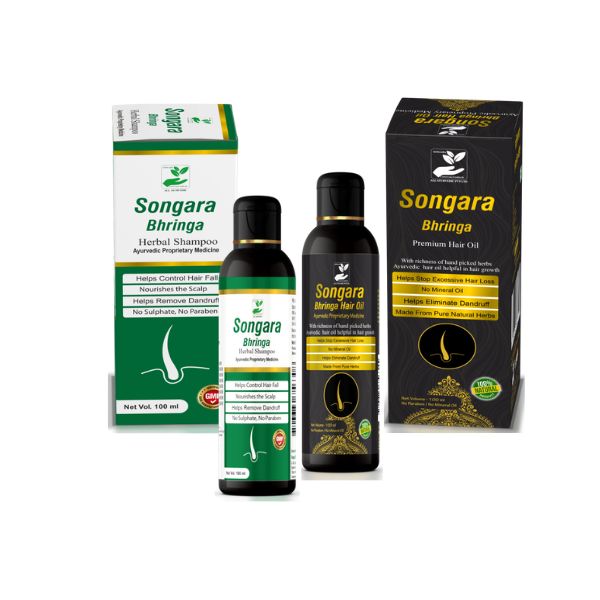 FAQs
How can we trust that your product will work when there are thousands of oils available in the market, and everyone claims that theirs will work?

It's understandable to be uncertain when there are so many new hair oils available on the market. Rest assured, we want you to trust us and that's why we are happy to provide you with the best advice. To get started, please send your name and address to our customer care service number +919510724776 or +917999905569 (Whatsapp).