Regular price
Rs. 380.00
Sale price
Rs. 320.00
Unit price
per
Sale
Sold out
Songara Avipattikar Churna is an herbal remedy for various digestive problems, such as indigestion, constipation and gas. Its active ingredients, including Ajamoda, Shunti, Pippali and Marica, have each been well-known for centuries for their anti-spasmodic effects on the digestive system, as well as their ability to reduce inflammation and improve overall digestion. With regular use, this effective product helps improve digestion and get rid of uncomfortable gas and constipation.
View full details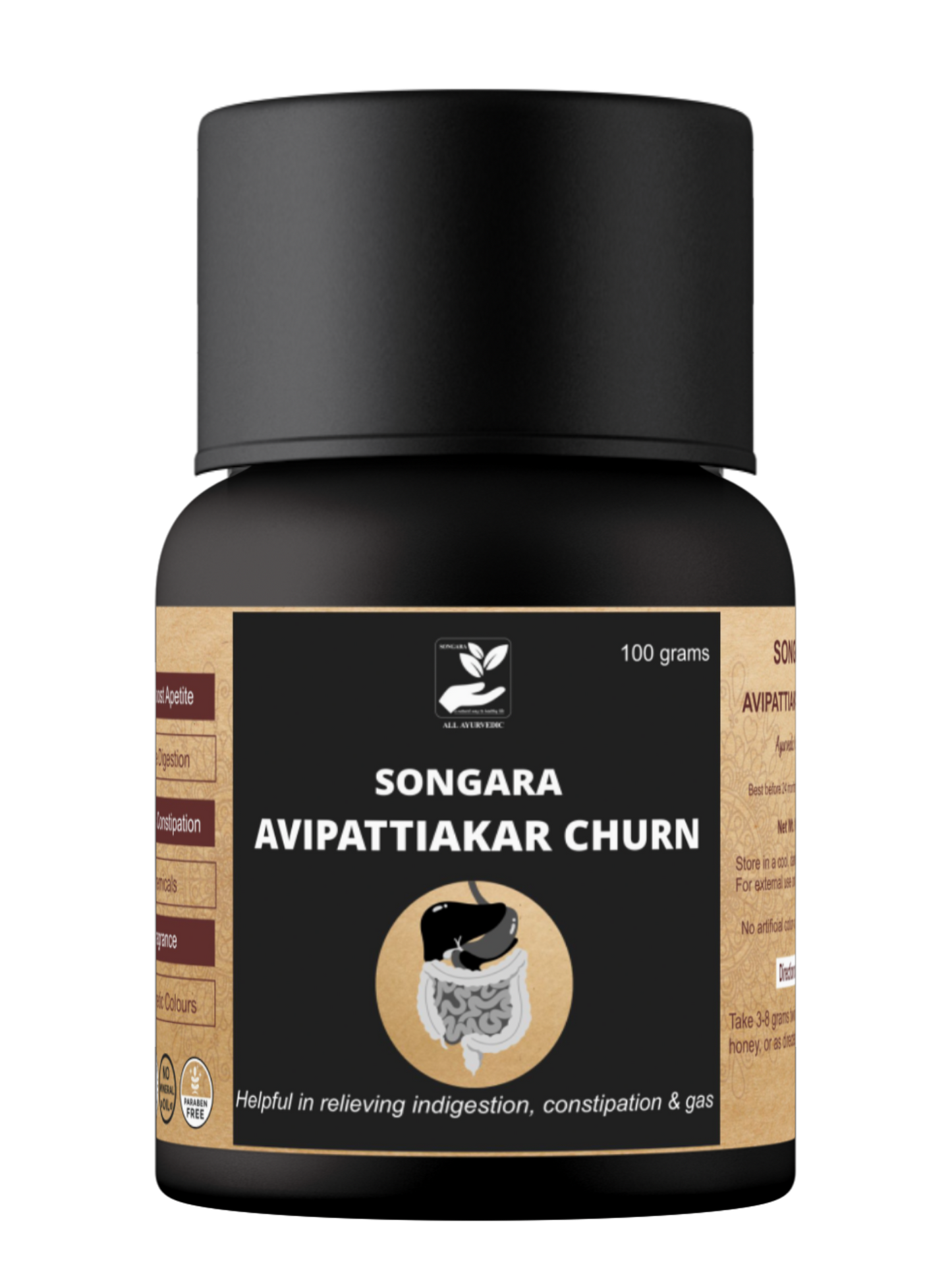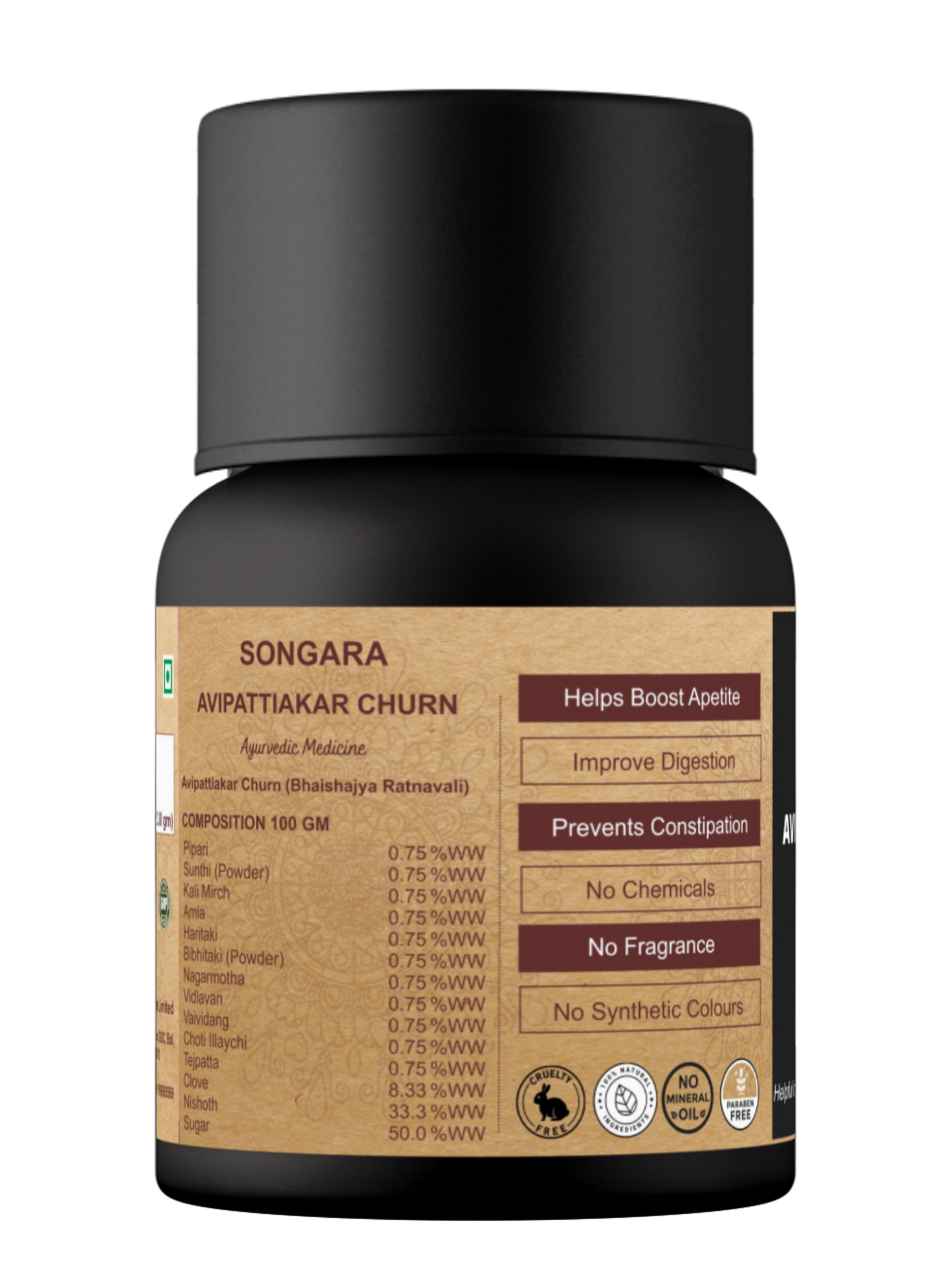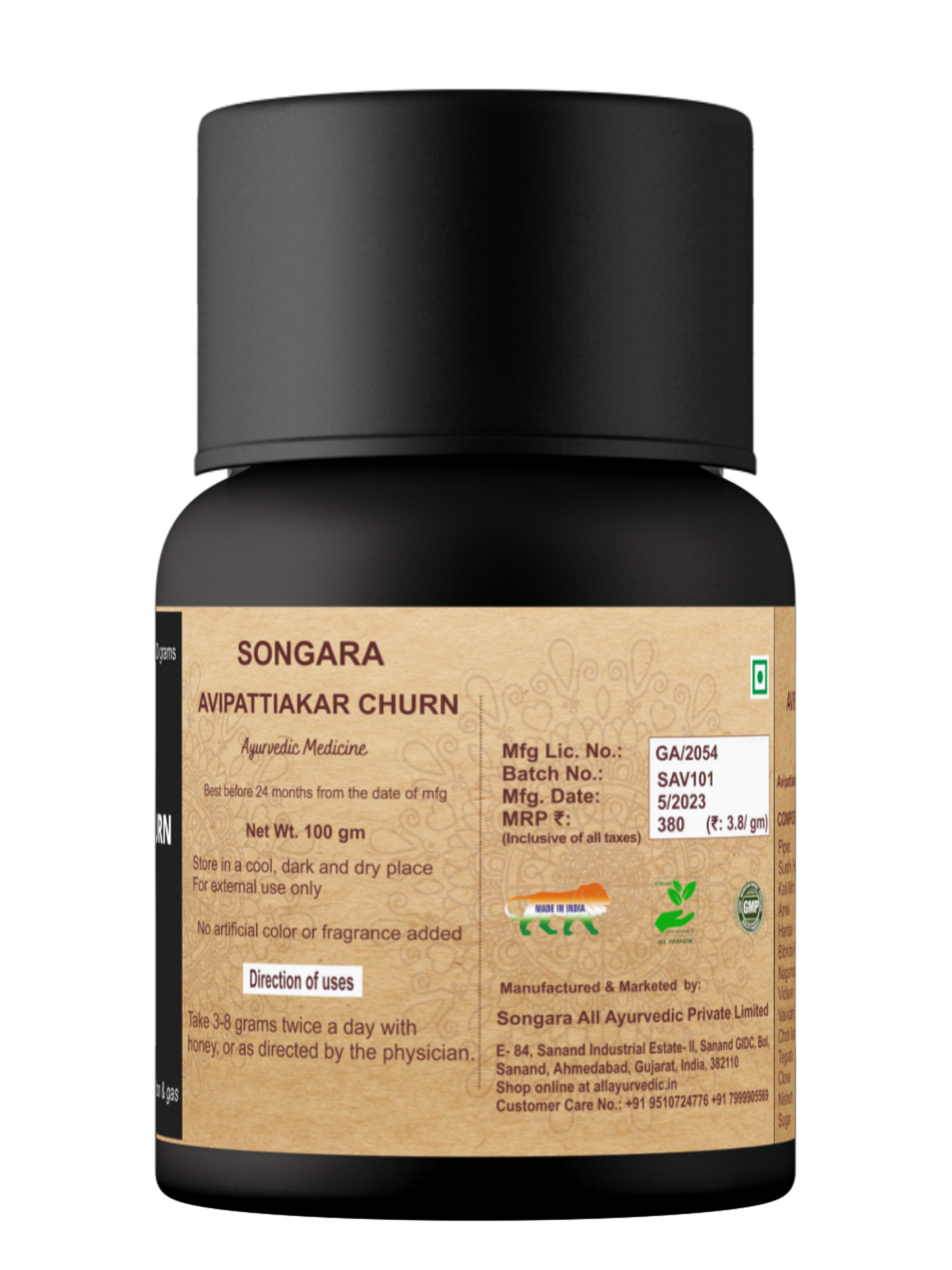 Key Ingredients
Bibhitaki

Bibhitaki is an amazing fruit that can be effective in treating stomach ulcers.

Vidlavan

Vidlavan is Deepana –improves digestion strength. Shulahara – useful in abdominal colic.

Sunthi

Gingerol, a natural component of ginger root, benefits gastrointestinal motility

Mairch

Black pepper helps to stimulate hydrochloric acid in your stomach so you can better digest and absorb the foods you eat.

Amla

High amount of fiber in amla help to regulate bowel movements and relieve digestive ailments like irritable bowel syndrome, constipation, diarrhoea, etc.

Laving

Cloves are best used for easing flatulence, gastric irritability, dyspepsia, and nausea.
Key Benefits
Anti-inflammatory

Relieves Anorexia

Helpful in Diarrhea

Helpful in Loss of Appetite
Talk to our Specialist
Our esteemed Experts are at your disposal to assist you in selecting the best products which are beneficial to your well-being.
Talk to our Specialist
FAQs
Can we use it daily?

Yes, it is purely Ayurvedic and no known side effects.
Who should use it?

All men and women can use it, suitable for all body types.
Can I use this daily?

Yes. It is safe to use. Made for all age groups. Any issue of acidity, digestion, anorexia can be dealt with.
When should I use it?

1. Take 2-3 grams of Avipattikara Churna.
2. Swallow with water or buttermilk.
3. Repeat daily once or twice a day after meals until symptoms reduce.
Let customers speak for us