Regular price
Rs. 350.00
Sale price
Rs. 250.00
Unit price
per
Sale
Sold out
Songara Hair Pro Capsules are an Ayurvedic blend formulated to promote healthy hair growth and reduce hair loss. Containing vitamins, minerals, and herbs, the capsules replenish stores of essential nutrients to strengthen hair follicles and roots. Results may include improved hair thickness and luster, as well as increased hair growth. Suitable for all hair types, Songara Hair Pro Capsules are the perfect way to keep your mane looking fabulous.
Keep your hair healthy with Songara Hair Pro Capsules. These purely Ayurvedic capsules are effective for reducing hair fall and promoting hair growth, luster, and thickness. Backed by natural ingredients, they promote natural hair growth, nourish scalp and hair follicles, and safely nourish your hair without any unwanted side effects or potentially harmful chemicals.
View full details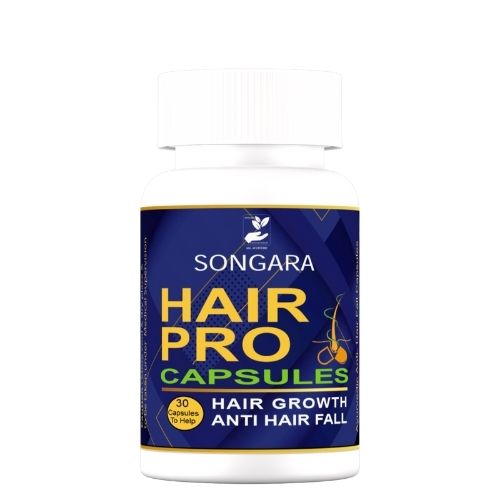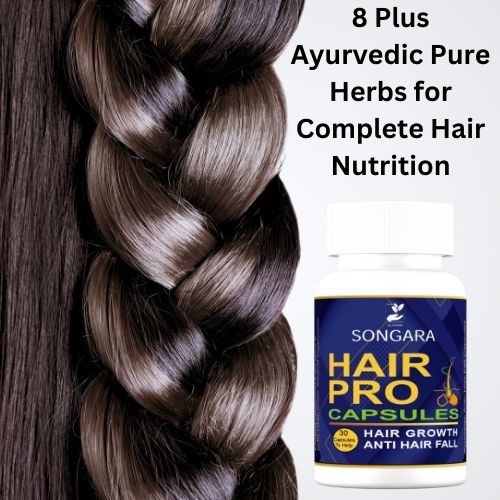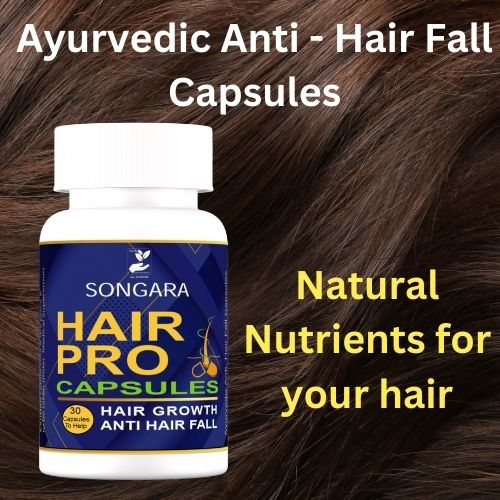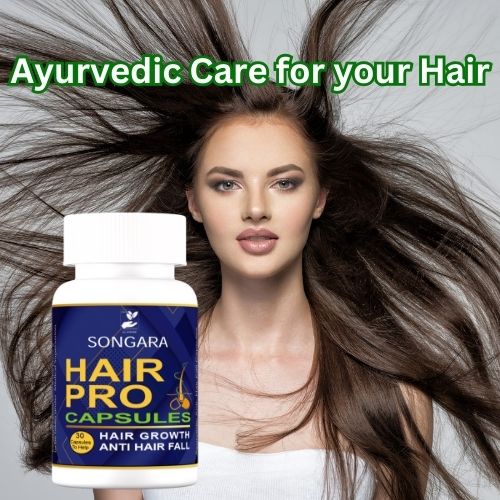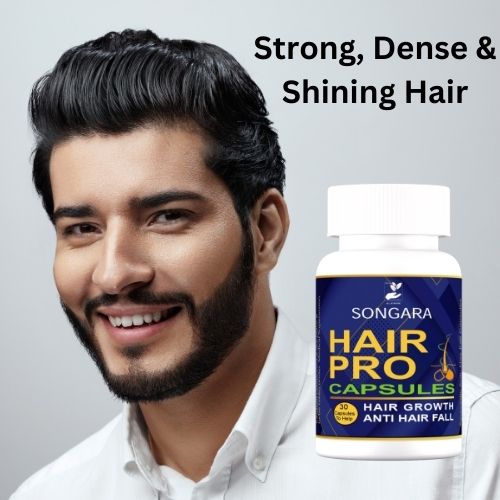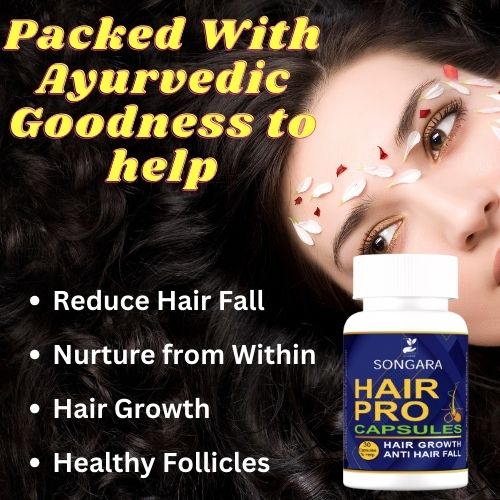 Key Ingredients
Amla

Hair tonic, Conditioner, promotes Hair growth, Useful in Darkening of Hairiv

Bhringraj

Hair tonic, rejuvenate hair keeping hair lustrous, dark and healthy, also nurture and condition hair

Moringa

Strengthens the hair cells and regulates blood flow to the scalp, nourishes hair cells, beneficial for hair growth

Methika

Useful in hair fall, natural emollient which helps in strengthening and moisturisation of hair

Mandoor Bhasma

Powerful hematinic and Tonic

Yashad Bhasma

Good for hair growth, nourishes scalp, imparts shine to the hair, and improves keratin to strengthen the hair

Mandukparni

Antioxidant, Antifungal, stimulates microcirculation, thus promoting hair growth and giving it more strength and shine

Yashtimadhu

Hair growth stimulator, maintains healthy hair, Antimicrobial, Antifungal
Key Benefits
Promotes Hair Growth

Improves Hair Luster

Nurtures Hair and Make Strong

Healthy Scalp & Hair
Talk to our Specialist
Our esteemed Experts are at your disposal to assist you in selecting the best products which are beneficial to your well-being.
Talk to our Specialist
FAQs
Can we use Songara Hair Pro Capsules daily?

Yes, it is purely Ayurvedic and no known side effects.
Who should use Songara Hair Pro Capsules?

All men and women can use it if they want to improve their hair health.
Can I take this with my other products?

Yes. It is safe to use. However, we would recommend using it alone and see the benefits. You would not need anything else for internal nutrition for hair. You should use it along with Songara Bhringa Hair Oil for maximum benefits.
Can I use it in summers?

Yes, it is safe for all the seasons. mers, winters, and rainy seasons.