Regular price
Sale price
Rs. 235.00
Unit price
per
Sale
Sold out
Experience the power of nature with Songara Gaj Pipal! Made with 100% pure natural and Ayurvedic ingredients, this Gaj Peepal powder helps you reap the rewards of nature's bounty with zero additives or preservatives. Restore your balance and vitality naturally, with Songara Gaj Pipal!
Experience the natural power of Ayurveda with Songara Gaj Pipal! This 100% pure, natural, and Ayurvedic powder is free of artificial colors and flavors, and is never treated with chemicals - giving you a pure and powerful way to tap into the healing power of nature. Get ready to take your health to the next level!
Botanical Name of Gajpipal
Regional Names of Gajpipal

Chavika, ushan, chavikamoola, gajapippalimoola, Bengali : chear, choi, chai Gujarati : chavaka Hindi : chavya, chabh, chab Tamil : chavyam Telugu : sevamu, chaikani, chavyamu
Safety Information

This herbs is safe to use. No side effects of Gaj Pipal Powder have been reported in the medical literature. However, you should always consult your doctor
before using Gaj Pipal Powder.
Recommended Dosage of Gaj Pipal Powder
View full details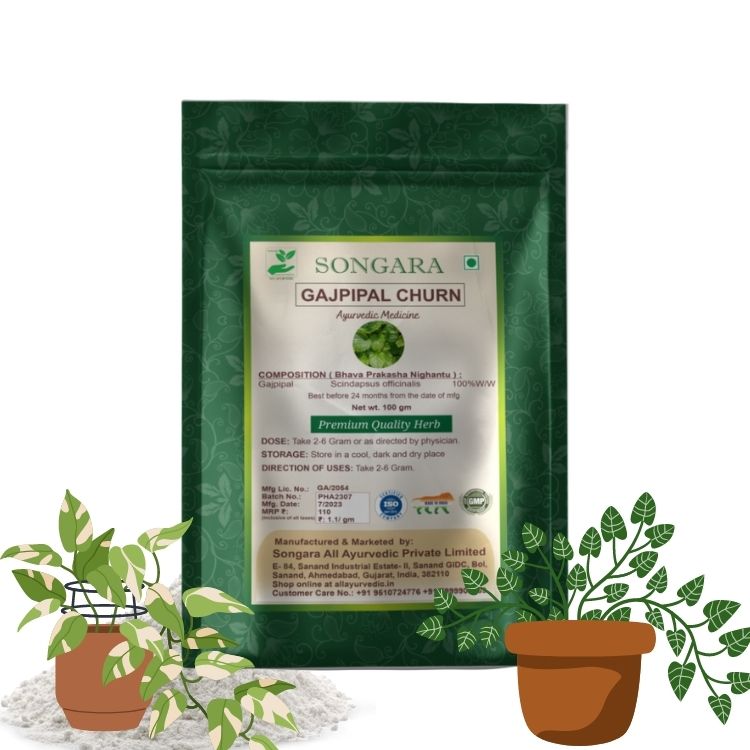 Key Benefits
Balya: Strength

Pachak: Digestion

Uttejak: Stimulant

Cough

Sandhivat: Joint Pain

Atisar: Diarrhoea
NATIVE/ OCCURRENCE OF GAJ PIPAL
Gajpipal is found all along the sub-Himalayan tract, in West Bengal, Orissa, Andhra Pradesh, and the Andaman Islands.
BOTANICAL DESCRIPTION
Gajapippali fruits look similar to Pippali. But they are much bigger in size, and hence they are called Gajapippali (Gaj means elephant).
Leaves are dark green, large, 12.5-25 by 6.3-15 cm., elliptic, ovate, or nearly orbicular, caudate-acuminate, base rounded or slightly cordate, primary nerves distinct, petiole 7.5·15 cm. broadly winged up to the knee. Peduncle solitary, terminal, much shorter than the petiole.
Spathe about 10-15 cm. long, oblong, sub cylindrical, slender-beaked, green without, yellow within. Spadix equaling the spathe, elongating in fruit, greenish yellow. Stigma elongate. Fruiting- hemispheric. Berries,
few only ripening fleshy. Seed ovate-cordate. Fruiting spadix sometimes a span long. Stem as thick as the little finger.
CHEMICAL CONSTITUENTS
Glucosides viz. Scindapsin A & Scindapsin B, Sugars & Fixed Oil.
HOW TO USE
The powder of dried fruits is used in asthma, throat infection, intestinal parasites, loose motion, piles, colic, and indigestion.
PRECAUTIONS
People with hyperacidity & gastric ulcers should avoid taking Gaj Pipal or hsould take it under proper medical guidance
Talk to our Specialist
Our esteemed Experts are at your disposal to assist you in selecting the best products which are beneficial to your well-being.
Talk to our Specialist
FAQs
Can we use it daily?

Yes, it is purely Ayurvedic and no known side effects.
Who should use this product?

All men and women can use it if, they should follow the direction given on the box or should use it under proper medical supervision.
Can I use it with other herbs?

It is safe to use, however please refer the instructions or consult an Ayurvedic Doctor.
How to use it?

Please follow the instructions given on the package.
REFERENCES
1.https://www.ncbi.nlm.nih.gov/pmc/articles/PMC3459456/#:~:text=CHEMICAL%20CONSTITUENT,%2C%20carotene%2C%20riboflavin%20and%20niacin.