Regular price
Rs. 180.00
Sale price
Rs. 80.00
Unit price
per
Sale
Sold out
Songara Ashwagandha powder is a high-quality, pure herbal supplement made of Withania Somnifera. Daily consumption helps reduce anxiety and stress, improve vigor and vitality, promote extra energy, support sound sleep, and increase immunity. Studies have also found that it works as an effective blood sugar control agent. Get the natural benefits of this Ayurvedic herb today!
Unlock your hidden power with SONGARA Ashwagandha powder! This 100g jar of Withania Somnifera is packed with natural benefits, helping you to fight stress and anxiety while increasing your vigor and vitality! Enjoy extra energy, sound sleep, improved blood sugar levels, and enhanced immunity with this incredible powder. Enhance your muscle mass and strength and experience increased stamina and endurance. Take your relaxation and restful sleep to the next level with Ashwagandha powder! Are you ready for the energy and focus you need?
Regional Names

Withania somnifera, Indian Ginseng, Ajagandha, Vajigandha, Winter Cherry, Varahkarni, Asgandha
View full details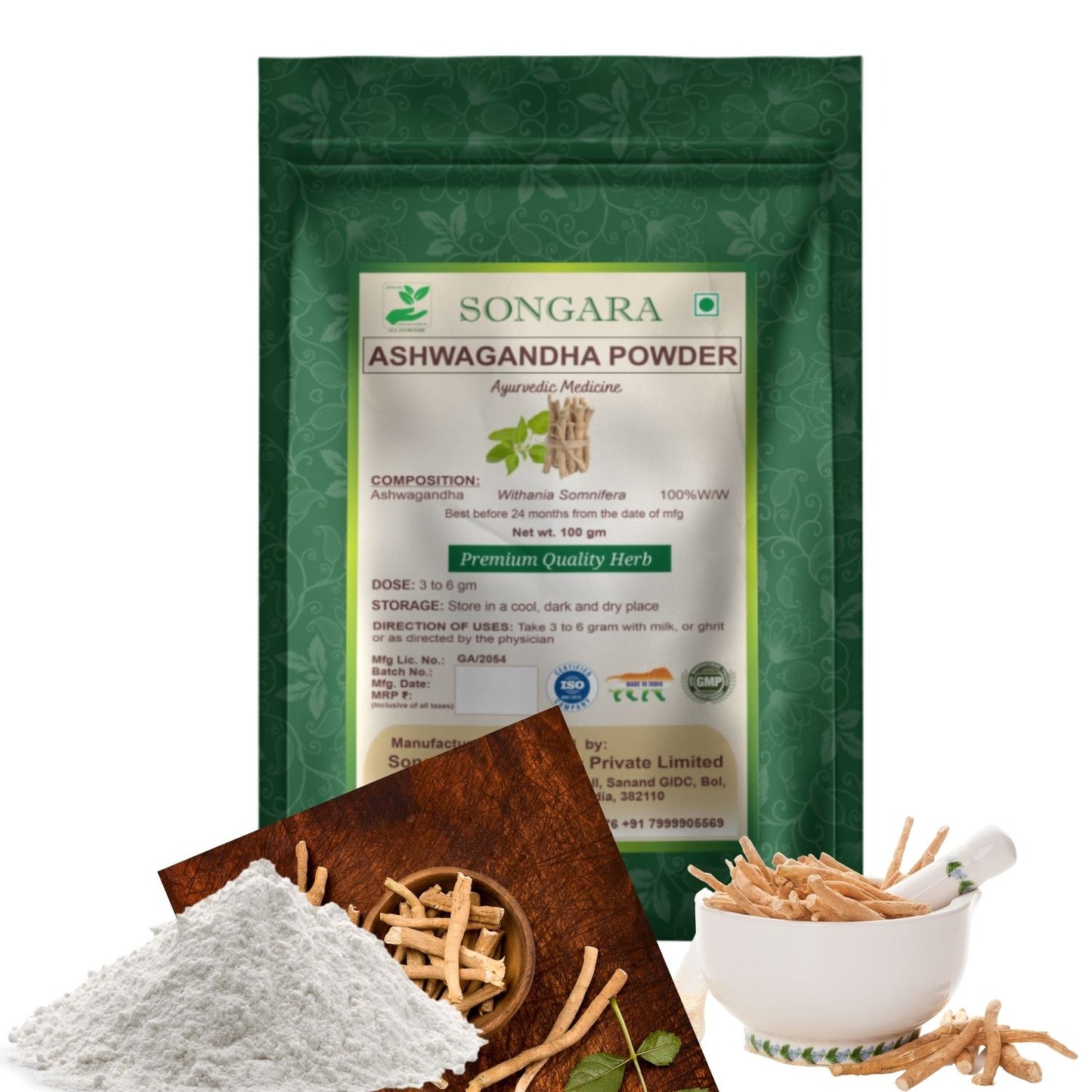 Key Benefits
Balya (Power)

Vrishya (Improves Libido)

Rasayana (Aphrodisiac)

Shoth Har (Antiinflammatory)
Modern Science
Ashwagandha may improve the individual's ability to deal with stress.
Stress increases the secretion of adrenocorticotropic hormone (ACTH) which in turn increases the cortisol levels (stress hormone) in the body. Ashwagandha powder reduces the level of cortisol and helps to
reduce stress and stress-related problems. {1}
Ayurvedic Benefits
Supports healthy reproductive system in both males and females
Boosts immune system
Acts as the natural antioxidant and anti-inflammatory agent
Reduces the level of stress and tension
Improves energy level and supports better sleep
Increases the haemoglobin (red blood count) and hair melanin
Regulates the blood sugar level and lowers the cholesterol
Provides nourishment to the whole body
Reduces inflammation and strengthens muscles
Acts as a heart tonic, uterine tonic, and lung tonic
Useful in the treatment of neutropenia, rheumatoid arthritis and
Osteoarthritis, Cancer and various chronic connective tissue disorders
Enhances memory and alleviates age-related cognitive deficits
NATIVE/ OCCURRENCE OF THE HERB
Ashwagandha is cultivated in dry regions of South Asia, Africa, and
Central Asia. More than 50 chemical constituents have been isolated from different parts of the ashwagandha plant
BOTANICAL DESCRIPTION
It is a small shrub that belongs to the family Solanaceae.
CHEMICAL CONSTITUENTS
Ashwagandha as a whole contains umpteen number of active ingredients which are used for improving various bodily functions. The roots are loaded with essential volatile oils, amino acids and alkaloids, whereas the fruits and leaves are rich in tannins and flavonoids which helps in getting rid of free radical damage and also reduces oxidative stress.
HOW TO USE
Take 3 gm powder, 1 to 2 times a day or as directed by the physician.
PRECAUTIONS
Ashwagandha should be avoided during pregnancy as it might increase uterine contractions{2}
Talk to our Specialist
Our esteemed Experts are at your disposal to assist you in selecting the best products which are beneficial to your well-being.
Talk to our Specialist
FAQs
Can we use Songara Face Tailam daily?

Yes, it is purely Ayurvedic and no known side effects.
Who should use Songara Face Serum?

All men and women can use it if they want to improve their facial glow and skin tone.
Can I take this with my other creams?

Yes. It is safe to use. However, we would recommend using it alone and see the benefits. You would not need anything for your skin.
Can I use it in summers?

Yes, it is made up of the Ayurvedic method and combined with modern technology. It gets absorbed fast and leaves smooth skin in summers, winters, and rainy seasons.
REFERENCES
Chandrasekhar K, Kapoor J, Anishetty S. "A prospective, randomized double-blind, placebo-controlled study of safety and efficacy of a high-concentration full-spectrum extract of Ashwagandha root in reducing stress and anxiety in adults."Indian J. Psychol Med.2012;34(3):255.
Singh N, Bhalla M, de Jager P, et al. An overview on Ashwagandha: A rasayana (rejuvenator) of Ayurveda.Afr J Tradit Complement Altern
Med.2011;8:208-13.